Letts Journal, created to deliver business media with a soul, is celebrating its first anniversary.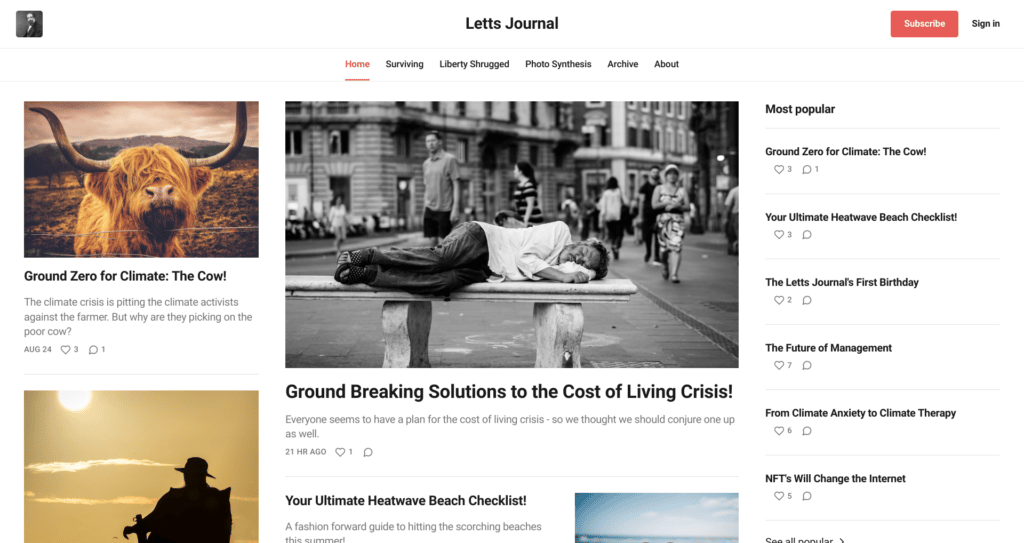 LettsGroup is excited to announce the anniversary of its business media venture, Letts Journal. A year ago today, Letts Journal was launched as a new style weekly publication that talks straight about business, climate, and life for progressive thinkers and innovative leaders. It is proud of its commitment to free media that is ad-free, clickbait free, and free to read.
Letts Journal has grown exponentially in the past twelve months, having developed a strong, supportive foundation of readers who have provided the venture with invaluable feedback and data. Some of the most well-loved features of Letts Journal include weekly updates straight to readers' inboxes, along with the refreshing, insightful and humorous take on business news that makes the subject all-the-more engaging and accessible.
The media site's three extra channels cover future trends, political satire, and photo-cartoons - putting the soul back into digital news. A year on, with the launch of its new website layout, the Letts Journal has stayed fresh and exciting. The new layout makes available handy digital tools - a hallmark of each LettsGroup venture.
True to the Letts Journal belief that information media should be accessible and attainable to all, the team have decided to keep all content free at all times - curbing the common monetary issues of paid digital subscription requirements that have been a well-cited downfall of multiple digital news and media sites. It's become especially relevant in the face of today's cost of living crisis.(Dare we say 'recession' …. Er, banana)
At Letts Journal, any paid subscriptions are voluntary to fulfill the LettsGroup values of access and sustainability. Voluntary subscriptions allow devoted readers to support Letts Journal's expansion, but access to content remains untouched regardless of a paid or unpaid subscription. That is the Letts Journal promise.
This July, Letts Journal implemented other subscription options. Their standard free subscription is now supplemented with a voluntary monthly or annual subscription at just £3.50/pcm or £35 annually - completely at the subscriber's discretion. Alternatively, one can gift or donate a subscription. But the standard is set and will remain that all content is free and accessible to paying and non-paying subscribers.
The Letts Journal further offers a Platinum membership for people or businesses that want more from the platform. Those supporters can get featured as a sponsor, and receive invitations to exclusive LettsGroup events.
Growth at Letts Journal is completely determined by its growth in subscribers - whether they are paying or non-paying, meaning that reading and sharing Letts Journal commentaries is encouraged and indeed vital to this independent platform and its writers' evolution.
Subscribe to Letts Journal to experience the platform's news commentary today, along with weekly updates straight to your inbox. Letts Journal is a publication of the branded incubator group, LettsGroup, which is active through @LettsGroup on twitter.