Remote working, Web3 and AI could be changing the management game - LettsGroup is paving the way for venture capital innovation.
Management is changing, and LettsGroup is at the forefront. Remote working, Web3 and artificial intelligence (AI) will fundamentally alter the way organisations operate, meaning a call for change from organisers who are having to keep up with a world led by digital natives and cooperative work styles. Also for LettsGroup, these changes are marked by each ventures' technological advances to establish platforms that are up-to-date, smoothly run and accessible.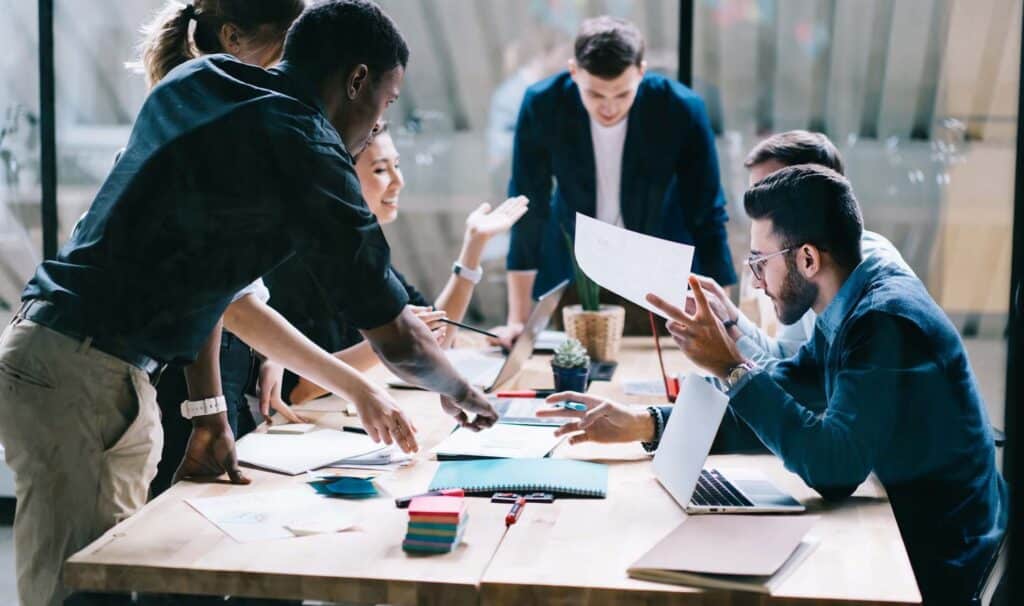 The definition of management is in a state of change. Once defined as 'the act of getting people together', a generation makeover has dubbed a new definition to 'gather people remotely'. Management is becoming first and foremost about organising and managing systems, with the people having to come second - likely requiring a new breed of managers to make it work.
Most standard definitions about management pontificate about organising people, resources and budgets to meet specific targets. Required skills include planning, strategy, budgeting and people management. This all made sense in the twentieth century. However, it could make increasingly less sense as the 21st century unfolds, as we switch from a people-centred view of management to a system-centric approach. Businesses that are successful are digital.
Tomorrow's organisation will likely be 100% remote, 100% digital, fully automated. Lean, innovative and fast. An approach LettsGroup intends to emulate across its venture portfolio.
The traditional manager is often considered a barrier to younger employees' progress and growth. Where digital knowledge is lacking amongst an older management team, strategy and company growth wanes. Thus, management today needs experienced technology experts and a drive to adopt new technologies. LettsGroup CEO, Philip Letts, offers a host of experience within the tech venture world, running prosperous start-ups such as Beenz and Tradaq, which made waves in the world of digital - pioneering cryptocurrency and defi. Therefore, the team at LettsGroup contains many established, high-profile technology developers who are hungry to apply new digital innovations to their work.
Web3 is here.
As is reflected in LettsGroup's company culture, the future style of management is shaped by the switch to remote working. Managing remote resources requires a fundamentally different approach as technology takes the lead and 'organising' experiences a reboot. Also, the latest systems for communication, planning, project and process tracking are rolling out. For LettsGroup, Zoom is just the first step.
If there was any doubt about the switch to remote, Findstack offers some sobering statistics:
16% of companies in the world are 100% remote.
However, 44% of companies don't allow remote work.
Better work-life balance is the main reason why people choose to work remotely.
77% of remote workers say they're more productive when working from home.
Also, the remote workers average annual salary is $4,000 higher than that of other workers.
85% of managers believe that having teams with remote workers will become the new norm.
74% of workers say that having the option to work remotely would make them less likely to leave a company.
The three biggest challenges associated with remote work are unplugging after work (22%), loneliness (19%), and communication / collaboration (17%).
Overall, remote workers are 58.6% of the total U.S workforce.
Remote working operates most effectively when each team member assumes full responsibility for themselves and the team communicates effortlessly with each other. An almost self managing entity. The principles that we have adopted by working with customers remotely over the last few decades also need to be applied internally. For LettsGroup, transparency is everything. Transparency through systems. And tight, highly productive teams full of 'leaders on the pitch'.
If managing remote employees might be better suited to the newer, more flexible and digital generation, then just wait for the transition to Web3 and AI. The former is challenging the very heart of organisational structure while the latter will automate practically any task worth doing.
Today, LettsGroup is indulging in the future. By adopting a 100% remote working policy, developing Web3 innovations and embracing digital steps forward in NFT-enablements, the venture builder has only scratched the surface of its ambitions for advancements.
This article was first published in the Letts Journal.
LettsGroup is a branded incubator group, which is active through @LettsGroup on twitter.